After A.L.L our honeymoon wannabes and changing our minds tremendously...
We've booked our honeymoon. Boy I tell ya, I am supa excited and ready for this get a way.
We probably talk about our honeymoon twice a week. Only 4 months & 27 days to go.

Holy BaGEEZus!
September 3, 2011 - The happiest day of our lives spent with all our favorite people, our wedding day!
September 4th, 2011 - Brunch with our families and out of town guests. And WHEN we feel like it, we will be on our way to Tampa, Florida. Spend the evening in Tampa in order to wake up and walk on board on
September 5, 2011.
That's right. On board as in a ship. As in the

Carnival Inspiration

.
I've mentioned before, cruising wasn't our first or second or third choice when it came down to picking a honeymoon. Yes, I think cruising is the best way to go when it comes to vacations. However, We've been on five together. We were hoping to do some thing a little different. After all the searching and let downs, we decided that cruising was our best option & most affordable.
Why we chose Carnival?
We always go on Carnival Cruise Lines. We get special service. It's called the FUN SHIP and we always have a great time.
Route-
Usually we pick where we want to go and then a date for a vacation. However, it being our "honeymoon" we knew we'd have to leave on the 4th or the 5th. We REALLY wanted a day to chillax and recooperate. So, the 5th it was. The only Carnival Cruise that was leaving on the 5th was the Inspiration [which we've never been on, thank goodness] and departing from Tampa, Florida making our destination Grand Cayman Islands and Cozumel, Mexico. We've been to both of these places, boo. It quite alright. It's a five day cruise; Monday - Saturday...
After getting off the ship. It's up in the air. Are we ready to head home? Maybe we want more alone time? [Hubba-Hubba]
We will either take our time driving home OR stay another night in Tampa, Florida!
The Carnival Inspiration Ship
We are staying in V18 on the Verandah Deck. Exciting because it's one of the highest upper decks.
Did that make sense? Hope so.
Our Room?
This is exciting for me...
When discussing our room, we were up in the air about it.
Most of the time we aren't in our room a lot. Only to sleep and refresh.
We decided that a basic room was fine.
.....
Or so he thought. When showing Aaron our room, he saw this...
However, what he doesn't know is we will be staying in the Penthouse Suite.
I am soooo excited about this...
I never can surprise him. He usually gets to the surprises before me.
Com'on... It's our H.O.N.E.Y.M.O.O.N

♥
The Pool[s]
Can I get a Miami Vice please?
Oh I am so ready for this.
Does that not look A-MAZING?
Uh Huh! It does.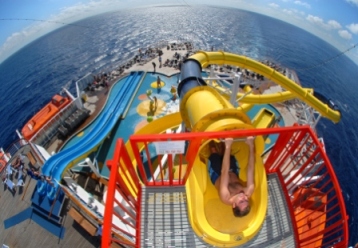 Does that not look scary?
Uh Huh! [
& then you always have an "adult" pool.
Putt Putt?
We'll definitely do this. He thinks he is the super hero of all super heroes
when it comes to Putt-Putt.
The Casino!
Yes please!!!!
Roulette is our favorite of all favorites!
Aaron is pretty good. I like to pretend I'm a big shot and sit with
$50 of one dollars chips sitting our every other hand just so I can stay at the table long enough to matter. Uh Huh... that's me!
True story: Our last Cruise, June 2009 - We went to Jamaica. August 2009 I got a check in the mail for $109 saying I didn't collect my winnings from the casino. Who doesn't know they win?
Those darn Miami Vices, I tell ya!
Dinner-
Yes please!
Aarons favorite part of taking a cruise... Formal Dinner.
My favorite because I like being buttered up. [literally]
Yes sir... You can butter my bread! Thank You!
Yes Sir... You can place my linen in my lap. Thank You!
Excuse me Sir, Aaron has food on his mouth, could you wipe it for him? Thank you!
[kidding]
We signed up for the late dinner, which is at 8pm.
We've never done the early dining, so I don't really know the difference.
I do know, late dining gives you more time to spend on the island & more time to come back and relax and get ready.
The Islands
Grand Cayman Islands & Cozumel, Mexico...
HERE.WE.COME

♥

♥

♥
Cozumel, Mexico
We've never really done excursions when in Mexico.
Mainly we hit Carlos & Charlies and sip on the sweet stuff! [Daiquiri's]
But we can do that any other time.
Let's have some fun baybay!
Our Top Excursion Choices
*Clear Kayak & Snorkel Chankanaab National Park - [looks awesome]
*Beach Buggy & Snorkel at Punta Sur [seems very fun]
*Amazing Secret River - [this seems a bit spooky, but once in a lifetime kinda thing]
*Adventure Park Zip Line & Snorkel [

♥

favorite]
We will FO SHO have to make a visit to the tiki bar.
Yes please!!
Grand Cayman Islands
We had a BLAST the last time we were here.
It's a very small, veerrry small island. So, I'm not sure there is a whole lot of choices.
We visited the turtle farm, which was pretty neat-to & we swam with Sting Rays.
NOT my cup of tea. I freaked out so bad when I saw the five foot monster sting ray swimming straight for me. I jumped on this random man behind me as he was
doing the "family" thing with his wife and two small children. Literally, I was performing the fetal position around this woman's husband. Thankfully, they understood. Aaron was so embarrassed. And he thought I was gonna feed them squid? Um, no thank you. I took my fancy hiney to the boat. Not my thing.
Not to mention they were wild. Yes, wild in the middle of the ocean. No thank you!
I am not Steve Irwin. In fact, if I were to compare myself to someone it would definitely be Vince Vaughn on Couples Retreat when the "shark attacked". That was me. Only with a Sting Ray.
True Story.
Sting Rays are very popular in the Cayman Islands.
Therefore, our excursion choices are slim to none.
Deep Sea fishing. [We both would enjoy]
Swimming with the Dolphins. [We've done this before]
Snorkel on Star Fish Beach. [this sounds neat-to, however Sting Rays are involved]
The Beach.
Looks like Deep Sea Fishing & the Beach it is.
Maybe there is a surprise waiting for us on the islands.
Whelp! That concludes our Honeymoon.
Maybe I should say...
That's all I know about our honeymoon plans, because that's FO SHO not the end of it!
We are tickled to death & ready to... ... ...
HAVE.SOME.FUN

♥
[ & you thought I was gonna say TMI]