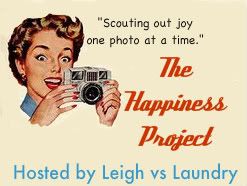 Ohhhh I've been missing out on Leigh VS Laundary - A GREAT blog, by the way...
Roll on over to her blog and participate in her happiness project.
THis week, there have been a MILLION + things that have made me

HapPy

!!!! [Check my others blogs to see why] But, doing this happiness project with Leigh, I've realized there is ONE thing that has

REALLY

made me SUPER excited and I have yet to

RAVE

about! It deserves a pat on the shoulders! More should I say, Ya'll deserve me patting you on your shoulders!
Right under two weeks ago, I only had 6 followers! Wow! 20 followers

just under two weeks!!! Thanks Everybody!!!!
Have a GREAT tuesday && Don't Forget to Check Leigh Vs Laundry's
Happiness Project
out!