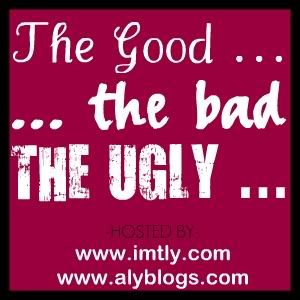 The Good:

I've started my "cutting back on food / eating very healthy"
The Ugly:

I gained a pound. What the crap?
The Good: We have a 99.9% chance of being completely debt free this year.
The Bad: We won't be going "all out" for our honeymoon!
The Ugly:

We aren't going to St. Lucia! [Frown] Maybe before we have children???
The Good:

Aaron got a raise at work & his own personal work truck!
The Bad:

He is now qualified to be on call.
The Ugly:

First time on call, he had to go in 8 differnent times!
The Good:

American Idol is Back... Yay!
The Bad:

I love the new judges, but not sure if they get the drift yet.
The Ugly:

Because someone can carry a tune, doesn't mean they are Hollywood Qualified! Coming from someone who knows nothing about voices/singing!
The Good:

My First Bridal Show is Sunday!
The Bad:

Just got the news, Mom is flying out to New York tomorrow & will be back Tuesday!
The Ugly:

My Grandpa has had three heart attacks in three weeks. It's awful!
The Good:

I cook a meal every night!
The Bad:

I get home at 6:40pm & directly start dinner!
The Ugly:

I so tired by the time I clean up & get a shower...