...when you're wedding planning!
Exactly
4
months until Aaron & I say I do!
[Holy Balls!]
252 = Total Engagement Days
129th day of engagement
123 days to go!!!
We are half way there Ladies & Gentleman

♥
Wedding Planning-
Is still going very smooth! I love it and do NOT want it to end. I believe I can do this for a living. Seriously. Besides my stress at the very beginning of finding the p.e.r.f.e.c.t venue, I haven't had the slightest stress or negative actions taken place. Oh wait, I take that back. We had to change our date too many times, but that's okay now.
What's happening now-
My Mom and I have a pretty long list on things to do and get. It's small stuff, but it's a big deal. We are doing a ton of

DIY

projects

.
I have so much visioned in my head that I am very excited about. I can not wait to see everything together. We still have to pick up a few things for out table tops. 30 tables is tough. My tables is what I am most excited about. They are original and ... Me! They are busy. We also get to start on our arch for the ceremony. It too, is being handmade from a-z top to bottom, head to toe. However you wanna look at it. I'm very ready to see this finished also. June is right around the corner... June is a busy month. We have the bridal bash on the 4th. SOOOOO excited about that. I get to share all my ideas and projects with my Maids. We all will start working on certain projects together. Hopefully knocking out a handful of things that we not mentioned here. Favors! I'm hand making them as well.
I have to make 150, they will go to each couple or Family. I've only just begun these, so I need to get on the ball with them. Very time consuming. Our [Out of Town Guest bags] are 50% finished. They too, were DIY. The bags are done, now I just have to fill them. Programs... Not 100% sure what I want on them. I've printed out my draft, however my heart keeps changing things. So, I have to rest on this for a bit. My other favor, dealing with Candy. SOOOO excited about this! I can NOT wait to put this together. This is my doings. I'm working hard on this department. My mind doesn't stop when thinking about this. I love it.
Gifts for the Maids & Men-
This to me, should be heartfelt. Our wedding party is putting a lot of time and money into our wedding weekend. Also, they've been there for us before engagement, NOW, and will be there in our future. They should be recognized.
I've been working on these gifts from day on. Back in December 2010, I started thinking, planning, and preparing for their gifts.
Sunday, I had to chance to sit down and play with what's been created so far. Still have much to do. However, they are 75% finished. Ready to give them away.
Thanking people is very important to me!
My Look-
Okay, so I'm starting to confuse myself on how I want my hair.
Due to my veil & dress, I feel it should be up. I can't say any further on that. I've said from day one I wanted my hair up! However, a big piece of me wants my hair down. If there is one thing, that I can always depend on to look good [body outfit smile makeup weight] it's my hair. It does whatever I want it to. It holds, stays put, can be tight, can be loose, not oily, not too dry, curls, straightens, scrunches... whatever, you name it. It does it. Not to mention, it's really long. I can do a lot with it. I love it down. May 12th, I go for my first hair trial. My stylist [who has been doing my hair for YEARS] says I need to make sure I know what I want. NO CHANGES JESSICA. She knows me VERY well. :)
Weight - Okay, so I've lost 8 pounds. But I don't really feel it. I want to loose SO much more. At least 10 more. It's supposed to be easy to drop weight for your wedding. It's not that I'm not dropping it, I'm not trying very hard. I have four months. The pressure as started. I MUST back away from the cookies & milk and the Mac N Cheese. My man has GOT to quit taking me to dine out so much. MUST MUST MUST loose weight. It will devastate me if my armpit tit fat CREEPS out! Not pretty.
Shoes -
I have my shoes & they are the prettiest pair I've ever owned.
They have JESSICA written all over them! :)
My Dress -
Is the most gorgeous thing I've ever seen. I can't wait to wear it, show it, dance in it, swing it around...
It still needs to be altered. But that comes in July. Ready for Bridal Portraits! :)
Rings-
Aaron wants "plain. J, don't be getting crazy with it. Nothing fancy." quoting the groom. I've been on a hunt and found his ring. WE.... drum roll please... Found my wedding bands!
This particular ring, matches my engagement ring to a tee.
I will have two of these that set on each side on my band now.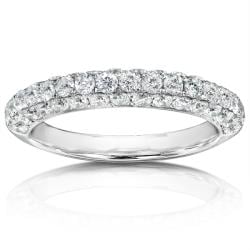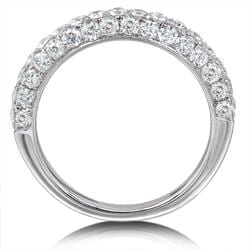 The Garter-
In the making & will be hand made!
Old, Blue, Borrowed, New-
I've mentioned before. I have ALL of these. However, I'd not happy with my Something New. I want it to be original. Not my dress or earrings or whatever. Everything else symbolizes something, so I need to get creative with Something New.
Marriage License-
This was exciting. Aaron mentioned this three times this past weekend!
I don't know why it came to surprise to me. Nor do I know why it made me feel good, but it did.
I am looking into that this week! :)
Music-
Most of our Music is picked out!
I can't quit listening to The First Dance song.
Out of the MILLION song we have together, this is not one of them. I love it. It's perfect
Cutting of the Cake - CHECK
Father Daughter Dance - CHECK
Mother Daughter Dance - CHECK
Song for his Bride - ALMOST CHECK
Song for her Groom - CHECK
Now we just have to meet with The DJ and discuss Do's & Don'ts.
It can't come fast enough! Aaron and I discuss just how ready we are to vacay together a ga-zillion times this weekend!
That is ALL for now.