Total Days of Engagement= 252♥
As of right now, we are dead in the middle of planning. Things are still going smooth. However, maybe feeling a little... I wouldn't call it stress, maybe intention? I don't know. Mine & Aaron's wedding day is right around the corner. We have accomplished so much, yet still have ways to go.
I will say that my wedding day is completely planned out. Everything is bought & purchased, [minus the itty bitty last minute stuff that must wait]. I've always been the type that knows what I want & how I want it. I owe my Mom my life. Thanks to her, we are able to be ahead of schedule with everything that needs to be done.
Our goal is to have everything [w/ reason] completely and ready to go, by August. Can we do it? Suuuuure!
I've never been the [hmmm, well... I don't know] or [Let me rest on it] kinda person. I'm quick to make decisions. I think it falls under the hyperactive part of me. Our check lists are made, therefore we know what needs to be done. Being our wedding is 75% handmade [DIY], we must get on the ball. My parents upstairs family room & our spare room is vomiting wedding all over the place. It's absurd.
My wedding experience has been the dream of mine since I was four years old [Thanks to "The Little Mermaid]. For years now I have been researching weddings, cutting out articles & clippings of ideas I loved. I had my own little notebook of wedding etiquette & pictures. I even had my bridal party picked out [which has changed] and where they would stand. Crazy, huh? The little things matter to me. They always have & always will. On the day of September 3, 2011 there will be all sorts of things symbolizing Mine & Aaron's relationship. Most people will not know what it is, but when I sit down with my little girl many years for now having that conversation that all little girls love, How Daddy & Mommy met & fell in love, I want my wedding album to tell a story.
For the past weeks, I've been spending my weekends, [really enjoying down time] at home working on the this & thats, that are on my must have list. With a little painting, cutting, gluing, even designing, the project list goes on and on. Aaron thinks I'm nuttos, however he has his input and ends up loving the finish products. In June, My Mom is hosting a Bridal Bash at her house where all my maids will gather together for a brunch like day, working on different ceremony & reception projects. I am crazy excited, very much looking forward to this day. The ladies are pretty stoked about it as well. They've heard about the different ideas and thoughts I've had since we went wedding dress shopping together [back in February], however they haven't really seen much.
So for now, that's it. As much as I'd LOVE to share each project step by step. I'll have to wait until
we are married and the party is over. Sad. I had all intentions in sharing. I didn't really care who saw what, because I feel on that day you will get a whole lot more out of it. Buuutttt....
It's better off this way. You'll just have to hear my words & thoughts. [B.O.R.I.N.G]
With that being said, you should know that you can do SOOO much in order to make your day so meaningful, original, & memorable.
Here's just a few. Take a look:
Guest Book Ideas: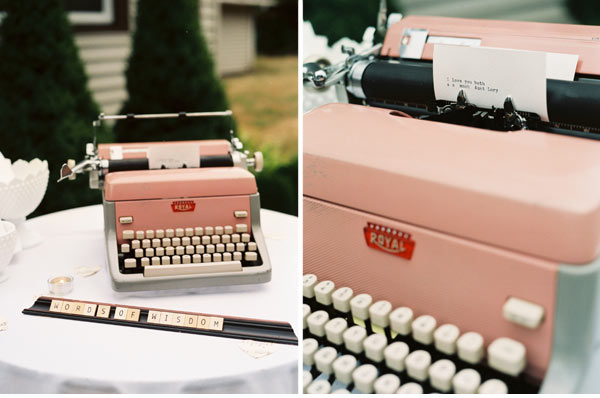 Wedding Signs
Brides Bouquet
The Look & Feel....
Romantic Love
Would be cute, if the Mr & Mrs met at a carnival
A Country Kinda Love♥
Table Numbers
&&& There is many many other ideas. You just have to look.
See ya next time

♥
[Note: Tomorrow I go for my first hair trial. Yay!]
Happy Wednesday!