Okay, so not everyone seems to be very

'Oh my gosh, it's Miss JLA'S Tuesday Threes I MUST link up'

about my Tuesday Threes... and I'm totally okay with that.
I'm still having fun sharing and reading about the awesome people that are!
But here's the deal! I'm going to start setting a goal... My goal for this weeks Tuesday Three is a

big

whoapn' 10

blog friends to Link Up with me! I'm coming after you if I don't see you this week!!!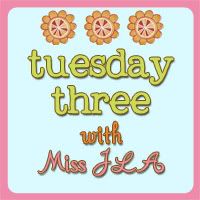 Here's how you play. Grab my button, make a post, tell me about your "three things" and Link Up!
That Simple!!! Right? Right... so play with me! Make me smiile! : -D
This weeks Tuesday Three is simple... Not Long, No Stories, Just Basic!
Stories are always Welcomed though!!! I love them!
Every woman, okay maybe not every woman, but 99.999% of woman are "Anul" [as me and my mother call it] about certain things happening around the house. Maybe it's Laundry piled up, or Towels on the floor, or maybe it's The Toliet Paper goes upwards, not Down-wards like my mother says...
Share three things that maybe your kids, your better half, or maybe you do it that drives you BONKERS!!!!
In other words, share your top three pet peeves around the house!
Here are mine - I have a lot, but the rules are only three!
1.]

Rinse your plate. Okay, so I got over the fact that it's impossible for Aaron to load the dish washer as he dirties dishes. But, please honey... I love you, and you are the very best, please rinse the ranch of the plate you just ate pizza off of. I love you, you're the greatest! We're getting better at this.
2.]

Dirty Clothes go in the Hamper. No No No, they do not go on the floor babe. Yes, I think you are sexy when you're in your dirty work clothes, and I love you, but I'm not your mother. I love you. SO I MOVED the hamper right by the shower... and we are STILL struggling with this. But working on it. :D
3].

Carpet. [A Weird Quirk of Mine] Our Carpet has to be vaccum a certain way & then I sweep it all in one direction. Try it. You will Love the way it looks & if you're as anul as I am you will start doing it. I'm sorry, I'm my mother more and more everyday and shes AmAzInG.
Okay, Okay... SO I'm pretty Anul. BUt I can't help it. I like things a certain way. I may be certain, but I'm NOT a witch on a broom stick. I do NOT wine & complain about it. I say my reminders soft and pleasant. I've learned you have to treat men like babies... If you yell or B*tch constantly, you will not get anything accomplished! Training takes time! Baaahhhahaha, Kidding! I love my man & he is wonderful. But, as I said... I am not his Mother! [Who will do anything, anything, anything for him. Yes, I have a Mommas boy.] :)
Looking forward to seeing yours! Get your BUTT over there and Start on it!!!
Oh Geez, Jury Duty tomorrow.. YIKES!
♥

Miss JLA