Today, I'm combining my 30 DAY JOURNAL- Day 7 with Tuesday Three!
Join Along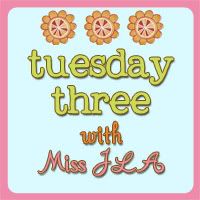 Day SEVEN

- Share a photo that makes you happy
Now, here's how they will be tied together...
Tell

three

reasons why you love that photo.
This is my oldest niece Chloe!
What is she doing? She's in a watermelon eating contest againest her cousins.
To see more pictures go HERE



She's being a REAL trooper. I've never seen her eat so much.




The combination of her cheeks & her bandanna cracks me up!




I'm telling her to spit it out, because I was chanting her on so hard [you will see why in the other photos] that I thought she was going to get sick. She did not but she did win! That's my girl!
Remember friends, this is a blog hop! Let's meet and greet!
Make friends & Leave comments!