Welcome to Marry Me Monday!
Every MOnday I will have guest telling any story they wish to share about their Fiance' or Hubby's!
If your are interested or want to learn more, go HERE. As for now, let's move on to Ashley from Life after the Aisle. Ashley chose to share her experiences 7 advice about her wedding.
--------------------------------------------------------------------------
Hello Lovely Stilettos & a Fishing Pole Faithfuls!!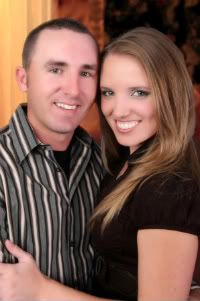 I'm Ashley from Life After the Aisle and have been honored by Jess asking me to guest post.

I was seriously stunned and over-the-moon excited for MY VERY FIRST guest blogger appearance!
I am a 'newlywed'…I'm not sure when that term goes away for an individual, but I still consider myself newly. =) I am about 2 weeks from celebrating my first wedding anniversary! Jess asked that I share something wedding related since she is a bride-to-be. After consideration, I decided that I wanted to share some advice with anyone who is planning on getting married at some point in their life.
I was very active in an online community: Project Wedding. The young women I met through this site were unbelievably supportive and positive and had tremendous ideas. About a week before my wedding, I sent a private message some of my 'inspirations' asking what they learned from their wedding experience and any advice they could give to me.
::This is some of the advice I received::
*Try your hardest to get everything done at least 3 days before.
**Accept that not everything is going to be 'perfect' and you will be stress-free all day!
*It is going to be the best day even if things do not go as planned.
*Remember to smile A LOT
– you will be in a ton of pictures.
*Try not to daydream about what the day will be like - it will be better than you can imagine.
*If, while you're taking pictures, you see something you'd like a photo of, speak up!
*Enjoy the time you have with your family and friends especially the ones you are close to.
*If you have the chance and can afford to go pamper yourself , DO It!!
::Do::

*Get enough sleep the night before. It is such a long day.

*Bring one of your wedding invitations to be photographed.

*Make sure someone packs up some food for when you leave. You're going to be famished!

*Spend 10 minutes alone with your new husband directly after the ceremony. It's the only time you'll get to be alone before you leave for the night.

*On your wedding day, allow yourself to be emotional.

*Look at yourself in the mirror on your wedding day and take in your bridal image.
*Try to focus during the ceremony and on your groom
*Practice good posture in the months leading up to the wedding – you don't want to be slouchy in all your wedding pictures
::Don't::
*Drink too much champagne before the wedding. Not because you'll get drunk -- because it makes you sleepy, or if you are like my little sister drinking makes you splotchy lol.
*Don't sweat the small stuff. There will always be something that doesn't go as planned.
*Don't drink too much wine or eat a lot of pasta at the RD. . .it will make you bloated on the wedding day :) At your reception the next day, eat and drink all you want!
*Don't worry about your dress. It's going to get dirty. . .and that is ok. :)
****************************
I found the girls all basically said the same thing: relax, take it all in, it flies by and don't worry about things NOT being EXACTLY perfect. I took this advice to heart.
::Some things that happened the day of::

*I forgot some of the decorations for the reception -- no one noticed because no one knew.


*The aisle runner wasn't staying down because of the winds we were experiencing. Everyone was stressing it except me. I just said to cut off the monogram part and figure out a way to keep that down. That's what we did, it's all we could do and it was still perfect.
*I wanted the cake table in the center of the dance floor, it was at the back of the dance floor!
::Some other thoughts/pointers from MY experience::
*If you can, invite all of your out of town guests to the rehearsal dinner.
So many of our guests came in from out of state and were invited to the rehearsal dinner.
They were able to spend REAL one-on-one time with us and deeply appreciated being asked to join.
Even if you can't pay for everyone, still extend the offer for them to at least come see you and spend time with you.
You won't WANT to spend time with anyone but your husband at the reception lol.
*I was SO stressed about the weather -- I wish I wouldn't have monitored it at 10 days out. THEN I was so worried about it not raining, I didn't take the wind into consideration lol. DO NOT WORRY about the weather, make sure you have a backup plan just in case...it doesn't matter what it's doing outside - it's still going to be the best day of your life.
*EAT LUNCH!! I know that sounds so obvious but you are going to be so busy getting ready for you Big Day! make sure to stop and eat something -- I had Subway. it was 'light' and kept my anxious tummy settled.
*DO NOT FORGET TO SIGN YOUR MARRIAGE LICENSE! I had ours with us in the hotel and didn't realize that it hadn't been signed until well after the reception was over. I had my MOH and John's Best Man sign it that night. Before we left for our honeymoon on Sunday we had to haul butt to our Officant's house to have him sign and notarize it. Also make sure it is filled out correctly AND completely -- Our officiant forgot to fill out ALL THE INFO so I mailed it off and it had been returned while we were away. It was SO DISAPPOINTING to open our license only to find out it wasn't complete lol.
At the end of the day, it doesn't matter that your flowers were pink instead of red or that the table setting was all wrong. No one is going to care or remember for that matter, the MOST IMPORTANT part of your day is the part where you say "I Do"/your vows. Enjoy your day ladies. It's AMAZINGLY FABULOUS =)
I know that is a lot but take it to heart -- understand that things probably won't be 100% perfect, and that is OK because the POINT of the day is that you get to be your man's wife
Thank you again Jessica for asking me to post and congratulations on your upcoming wedding! You are going to be a beautiful bride!!