I am SUPER excited! Tonight, we are keeping our nephew, Reid Avery! His parents, Bridget & Patrick are celebrating their 4th year anniversary! Reid is growing up so fast! He loves his Uncle Aaron... but reallly LOVES is Aunt Jessica! [Wink Wink] Yesterday, I spent hours cleaning the house trying to get it ready for this weekend! [Aaron's Birthday Party] Also, making sure to vaccum and get the nic naks out of the carpet. Reid always seems to find the most random pieces to nothing! Our carpet is the speckled kind, so it's hard to see random little object. It blends very well. Not to mention, our house is NOT child proof! So, we're thinking of keeping him outside! Who knows! Be sure to check in on Sunday, It's Aaron's 26th birthday!
Reid Avery
Now, for something I have neglected in a while.....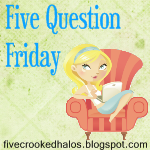 It's been so long since I've participated in FIVE QUESTIONS FRIDAY with Mama M! I miss her!
1. What do you listen to while driving?
Kidd Kraddick
in the Morning!
I love it! It cracks me up!
Other times in the car, I listen to my IPOD when it isn't dead, or flip stations.
2. What is your least favorite thing about Fall?
Hunting Season! - ha! Aaron would love that answer! It's kinda of bittersweet!
Be sure to check out YESTERDAYS POST of my Harvest House!
3. What does your dream house look like, inside and out?
I'm not sure. There are so many different homes I love, that are SO different. I guess it will just come to me [US] when we get to that moment in our life! Right now, I'm focused on ... maybe getting a ring??? Hmm, yeah, that's it. That would be super nice!
No really, When I picture my future HOME TO STAY and raise my children in, it has LOTS of windows, white with black shutters, & a wrap around porch! We definitely want is southern style country home with a nice piece of land, a white picket fence, and a pond! That's a MUST have! As far as the inside, Who knows! I just want a FUN stairway!
4. Would you ever own a minivan?
Sure! Why not? I'm not a big "gotta drive a fancy car" or "Spend a fortune a month ONLY to please other people" kinda person! Never have been. If a minivan suits me in the future, than sure! If it doesn't and something else does, I'll get that too!
Funny Story, My parents have one. They pull it behind the motorhome when they go off on vacation. Back when I blew my motor up in my Stang' waiting for it to be repaired, I had to drive the minivan around. Okay, now, at this moment in my life... a car isn't my biggest concern. If it drives and it's good on gas, I'm ready to go! But, 3.5 years ago was a different story. Although, I was thankful my parents lent it to me instead of renting a car for $30 a day, it was hilarious! 6 MONTHS, I drove around sporting the minivan! You'd be surprised at the honks I'd get on I-16!
5. Do you wash new clothes before wearing them?
No. Never even thought of it!
Well, I had fun! I sure hope everyone enjoys their weekend! I know I am! I'm SUPER excited for tomorrow! It's gonna be so nice!!!
Happy Friday Everyone!!!