I am NO LONGER 24 years old!!!!
Welcoming myself into the world of 25!
If you've read my latest blogs this week, you'll know that I've already had a few birthday bashs!
Again... I'm a Birthday Queen! My Friends && Family know this. Besides Thanksgiving, This is my FAVORITE time of the year!!!!
Last Night ... I fell in love all over again!
Aaron took me on a date. Now... We go on dates quite often! I'm spoiled! We definitely take advantage of our time together. But, they usually are the same thing! Dinner & Movie or Dinner & Putt Putt - NOT COMPLAINING... I love them all!!!
He changed it up last night a bit!!! We had the BEST time EVER!!!!
We started off having dinner together at
Carlitos, Mexican Resteraunt
downtown!
Downtown = Savannah [my favorite place] It's a little out of Aaron's comfort zone... He's better way back in the sticks... I'm all about a city && the fuss!
Dinner was so wonderful. There is nothing I love more, than to have dinner && sit && TALK for hours && We did, Two Hours... After 10 years, we are still able to just talk about nothing.. and have the best time.
The Waiter offered to take a picture...
It was a little akward, due to the ginormous tables!
"J, lemme get a picture of you!"
Well, there's more! Across the street is a Chocolate Bar, LuLu's && it is ANOTHER favorite of mine. I love this place! Perfect place to cozy up, fall in love, && get romantic.... Noooo, not yucky love stuff. I'm not a PDA kinda person! It's also a place I loooove my girlfriends & I to visit on a ladies night out!
Broughton Street... I love this place!!!
This place is INCREDIBLE and always sweeps me off my feet!!! Check LuLu's
Out! The atmospere & the surroundings make me feel like I'm in NEW YORK CITY! Savannah isn't "fancy"... it's gorgeous, but not "fancy". Ohhhhh How I love the City Atmosphere.
You can order unbelievable tasting dessert like:
To View their list of DELICIOUS cocktails, Go Here:
http://www.luluschocolatebar.net/1802538.html
Aaron ordered the Dreamsicle Martini
I order the PineApple Upside down cake Martini
They both were [strong] && Delicious!!!
Together, we picked the White Chocolate Rasberry Cheescake!!!
&& A OLD flame flew in when we ordered the
Strawberries!!!
it was Valentines Day....
When we first fell in love....
We both TRIED to go out of our ways to make it special....
I brought Melted Chocolate & Fresh Strawberries...
We planned to "feed" them to each other... Like the MOvies....
BELIEVE ME WHEN I TELL YOU....
Not everything you see in the movies, turns out graceful....
Of course, being young and .... young...
I thought you had to be sexy...
When Aaron feed me my strawberry...
Who knows.. I guess I did it right... [What's Right?]
When I feed Aaron HIS strawberry...
He devoured it in one bite...
I left out telling him we were supposed to be sweet and cute when we ate them....
that moment... I died laughing at his face && have never left that night of eating strawberries...
When we ordered them tonight...
We laughed harder than HARD...
Tears were filling the eyes && we were re-living a moment from 8 years ago.
It was the most special moment of the night!
My 25th Birthday was the BEST ever! Whoever said growing old was rough... I disagree! Growing up && getting older... gets better every year! Life is TRULEY Amazing!
Happy
Giddy
Joyful
Excited
Appreciative
- my five -
1.
Cupcakes && Cocktails
2.

Dinner with my Ladies at Vinnie Van Go-Go's
3.

Early Birthday Present - The Fan I've been saving $$ for!
4.

The

BEST

date with my FAVORITE person....
5.

My NEW but old Blog Title, that's right, I'm bringing a past blog title back!
& adding a NEW header... and...
Well you'll just have to come back && see more later!!!
Everything is still in the making!!!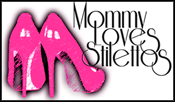 Have you been Vajazzled?
Head over to Mommy Loves Stilettos
to check her out!
♥ miss jla