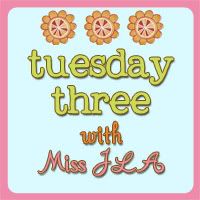 OF COURSE it's that time again!
My B.O.R.I.N.G Tuesday just turned into MADD fun!
BIG Thanks to the NINE bloggers who participated in last weeks Tuesday Three with ME!
I loved, loved, LOVED reading each of your experiences! Hopefully today, I will have the same nine come back + some.
So, who's iching to see what's in store for today?
Well, I'm SUPER stoked to tell ya!
ever since I was a little girl, I've been in love with fairy tales, dreams, stories, & so on....
One of the many characteristics of my personality is I love to sit and listen to any story of any kind.

[Well, most of them]

Whether it's your Wedding Day or how he proposed [my favorite], family problems or heartbreaks, Or where you grew up and what you were like as a kid. I like people in general and getting to know strangers. Thanks to my A.D.D. & A.D.H.D I became very good at it... then again, if it was boring my attention span became

weak!
So this weeks Tuesday Three is:
Take me to your town, the one you live in now, or the one you're from... Share THREE things we would do.
My Three:
If you came to MY town we would...
#1
or maybe even Redneck Water Skiing
2. I'd teach you how to play our famous game,
Cornhole
.
[click to see how to play]
Our family & friends have cookouts often.
Cornhole replaced Horseshoes a couple years back.
3.

I'd take you on a REAL camping trip.
View my Album
HERE
and you'll see me roasting hotdogs over the campfire & climibing trees.
Funny how I say this... before moving here [before I met Aaron]Camping was a Motorhome.
It still is, only sometimes!
Okay, so I reeeeallly wanted to take you Downtown Savannah, but that's NOT my hometown. SO much more to do in Savannah!
My Town is VERY small. So small it has ONE red light.
A couple of years ago, we were blessed with a Subway & McDonalds.
Yay!!! Subway comes in handy!
We are a small town.
We are a country town.
We are friends with everyone.
Alright... guess what?
ITS. YOUR. TURN!