My. FIRST. Blog. Carnival
Starts...
NOW!
Yay!

I'm SUPER excited!!!!

Here's how it goes.
Every Tuesday will be different.
I'm starting this weekend with Experiences you've been apart of!
Good, Bad, Scarey, Once in a lifetime, Never Will I EVER agains...
Whatever you want.
Share three fun & exciting stories that have happened to you in your lifetime.
Here's how you play!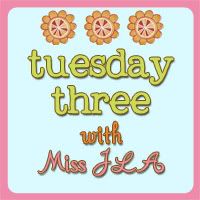 Copy the Tuesday Threes

Share THREE experiences that have happened to you, that you will never forget.

Post your experiences
Link up



pictures are always welcomed!


My Three are different..
Painful

Almost Death

BEST experience EVER
FIRST EXPERIENCE-
Bikini Wax anyone?
Once upon a time... I worked at a Spa & Salon. Lotus Day Spa.
Yes, I am a Master Cosmetologist, that no longer practices.
ANYWAY-
I was spoiled, Manicures, Pedicures, Massages.. Yaddi Yaddi Ya! I spoiled myself to all the above, due to getting great rates on all of them. One day I got this crazy STUPID idea, that I was goig to get a bikini Wax. Yes, what a great idea! I hate shaving.. and [this could be TMI] but get razor burn like crazy!
After thinking about it for a week, I talked myself into it. Only, I was going to do it. NEVER could I let my dear friends wax me. PLUS, I did facial waxes, body waxes, etc... before so, Yes.. I got this! It can't be HARD. I asked my girlfriend, Tiffany [Owner & Bikini Wax specialist] What she thought. She said, Go right ahead. It's GREAT! [Well, if you've never had a bikini wax, you have to let your area grow. [yuck] it has to be like... longer. Long enough for the hair to attach.] Okay, it makes sense. So I did. Let me tell ya. It's just NOT okay when you start acting out like a man, only your scratching yourself to death instead of lifting sweaty "friends" of your legs. My hand would NOT leave lucy. I was dying... and it's just not my style. So, I was doing it whether the basement was long enough or not. I couldn't take it. Alright...
So, I mark myself off the books, and I go next store and Tiffany walks me through the steps.
NOTE: Tiffany will be in RED. My Words will be in Purple. Okay, to stop the I said, she said.
It's better off if you take your clothes off.. You won't have anything in the way. Lay in the bed. You will start off by using the roll-on wax to get your inner thighs, it's just easier that way. Then you will use this wax [this max: there were two containers with melted wax, looking exactly like the wax we use in the salon] to do the top and to go further down. Rip againist the hair for better results. Take your time. No rush.

I missed out on telling you something [When I went into work that morning, our computers were acting up due to the power cutting off & a storm the night before, so the computer guy was RIGHT next store at the front desk] Alright.. SO I'm in there. I'm nervous, but excited. Oh, and I did tell Aaron what my plan was, only because he was curious why Lucy was looking ragged! [TMI] Okay, so Nervous.. I strip my clothes. every everything right next to me. Roll on the wax on my thighs, place the paper, and pull.. HOLY MOTHER OF APPLES! What the freak... OMG! Now I'm breath taken, only in the WRONG way... I can not lift my hand from that area. It was awful. So, after minutes of sitting there preparing for the next area... I start again. HOLY MOTHER OF APPLES... that wasn't any better! sdkfjsdafkjsjjdskfjs;jsdfjsfjsf .... I sounded like frank off of Home Alone when he's walking around the corner in the snow after his head being caught on fire. Yep! So.. I managed to get through the awful pain of the roll on wax. Lucy's turn. This can't be that bad. My heart is already pounding 90 to nothing. I use to stick to spread on the wax. I thought it would be a brillant Idea to do a bigger section, only to get done faster. So, yea.. I spread the wax, put the paper on and... that frickin lights go out. NO WAY. Okay, do this real quick. I go to rip it off.. and nothing happens. The paper slides off and the wax has harden. WTF? I peek my head out the door..

TIFFANY. TIFFANY

.

Hey.. oh my [laughing at me]

Tiffany, where are the lights?

Power is out all around. How's it going in there?

Good Question. It sucks, and I'd like to know why the wax is stuck on Lucy.

I tried to

....

OMG Jess, You used the new facial wax!

What???

Heart is pounding... She's Laughing,

You're gonna have to pull it off. It hardens because it's easier for the facial hair and it doesn't leave much redness.

WHAT? Tiffany you did not clairify what was what? [both laughing]

I thought you knew.. JEss, Why don't you have a shirt on?

BECAUSE YOU TOLD ME IT WOULD BE BETTER TO STRIP. [LAUGHING]

I meant your pants & panties.

Okay, so they bring me candles for light so i can finish. I'm already sweating because it really isn't easy to put YOURSELF in pain or create pain for yourself. Nope, it's not! So I go back in.. I'm now standing, scrunched over.. counting 1.2.3. I can't rip remember. I have to ROLL the wax slowly off.. POP. POP.POP.POP. that's whats happening to Lucy. TMI but the hair is popping one. by. one! I'm sweating MORE because i'm freaking out, i'm in pain, lucy is burning, and the candles don't help the heat. It took me 30 minutes to get a size of a playing card piece of wax off the top of lucy.
I get it all off.. and literaly, I mean LITERALLY walked with my leggs apart for 3 hours. I was burning. I went home to a man very excited to see beauitful results, only to see razor burn times 100. He looked at me & said "I thought this was supposed to be a better thing?'"
BAAAAHAHAHAHAHHA,.... It's funny now. BUt it was HELL when it happened! This was a NEVER again experience!
SECOND EXPERIENCE-
Being in front of a shooting gun & behind one... are way two different sounds!
So, Aaron's Great Grandfather, who just passed in February... AMAZING MAN! He was one heck of a hunter. Hmmm, Wonder where Aaron get's it from? Anyway, he owed a ton of guns! In the past, say three years... he started getting older and started loosing it a little. NO, I didn't say crazy. But, Pappy would drink. No he wasn't an alcoholic. BUt he'd drink and forget how much he'd drink or make his drinks too strong. Well he did this, the night he thought we were robbers! Yes, that's right. For a little while, Aaron and I lived in a Studio Apartment, built outside his parents home. Up the Hill, was where Pappy's house was. Aaron's parents were away on a Cruise and it was one random night... Aaron had been fishing and I was home cooking dinner. Aaron just got back from dumping the fish guts by the creek. So, he's in the truck and drives across his parents yard to get to the shed. I walk outside on our front patio, [as Aaron'S DRIVING across the yard] and I'm telling him to speak to the dogs, because they think it's his parents... The Dogs were running in front of the truck out of excitment. Meanwhile, Aaron gets out, goes to the shed [located next to the Apartment] and I walk back inside the house. As SOON as I shut the door I hear. POW!!! My heart drops and I run to the door, standing on the patio I scream "AARON!!!] THINKING Aaron had saw a deer or something and started shooting. Our dogs are running towards me with their ears back... POW!!! [Hearing it come from Pappys way] I run back inside. The dogs are crawling up me, and I'm panicing. I go to call Aaron only he reaches me first... "Jessica stay inside, Pappy is going crazy" Then he tells me to go to the bathroom and open the window. [So he could crawl through] I turn the lights on and Aaron says.. Turn them off Turn them off. Pappys walking around the house! Lock the doors and get in the back room. Stay inside. And he hangs up. OMG!!!! I'm in shock, and praying for my dear life. Of course Aaron didn't clairify that he was walking around HIS house...not ours. Death went racing through my mind. Seriously, I was thinking of last words. So, I go to call his grand parents, Aaron already called. POW! POW! POW! POW! POW!POW! Grammye [his grandmother] Came to get Pappy. It took her some talking him down.. He was standing on teh side of his house, boxers - one sock - and a wife beater on.. shooting at us, thinking we were robbers! That was the last time he ever saw a gun and EVER lived by himself again. He passed away a little over four months later & And NEVER forgave himself. He actually shot through Paul & Kandis house... Through a tow glass doors, a speaker and a wall. BAD!
We ended our night, wrapped up in each others arms, in disbelief, and shock!
That was my Near Death Experience.
Third Experience
Child Birth Anyone? No, Not me... My sister!
I have. ALMOST one year ago...
Kim did not have a C-SECTION...
I was just dress like this for the fun of it.
I did NOT wear this during the birth..
It was just for the picture!
Me, Mama, & Tommy were there!
It was TRUELY the most amazing experience I have EVER EVER EVER
be apart of and think every person should see it once in their life time!
NOW...
It's YOUR turn!
[Sorry it's LONG]
Link UP here