I am totally,

completely

,

100%

smiling
big
right now!!!
I want to send a THANKS to Jennifer @ peave.love.mommy for making a special post about me && Mr. Wonderful && Stilettos & a fishing pole!
YOU ROCK Jennifer!
[VIEW the AWESOME post about Stilettos & a fishing pole]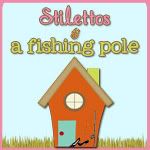 She found me yesterday from the Blog Bash. Apparently her and her hubby are a lot like Aaron and myself. COMPLETE opposites! Being we haven't been blog friends for even 24 hours yet.. we don't know each other THAT well... it won't be long! I look forward to getting to know you Jennifer && and very excited to see other relationships like mine! Aren't they awesome???
Interesting

is a better choice of word!

Thanks again to Jennifer... oh and how could I forget MICHELLE @ Mommy Loves Stilettos... You're always freaking AmAzInG!!!! I saw your awesome comment! Thank you. You're a favorite of mine TOO!

Thanks to everyone for being SO supportive. When I started blogging, I didn't have a clue what was going gone.. [still don't...kinda like why my header is missing and where it went] but I will find out and I will get it back.. maybe with some SPICE added to it! You ladies are SO awesome!

Head over to Peave.Love.Mommy and show Jennifer some LOVE!!!