Good Morning everyone!!!
I'm back to reality! Vacation is over, My Family has gone home [teardrop], and I'm back to blogging!
My weekend was fantastic! 54 family members all piled up at my Parents house...

CAN YOU SAY AWESOME

! I'll be posting a blog about the family fun SOON!
The Adult Watermelon eating contest
[Yes, that's Aaron and myself]
I ate like a man... My team was losing!
"Blind Folded Musical Chairs"
Aunt Tammy, Myself, & My Mom
The Weekend went great!!!!
I have SO much to share && SO many pictures!!!!
Any Who, a new blog I discovered yesterday, KASSIE [Raindrops on roses]

wrote about why we blog! GREAT QUESTION!!! Why do you blog? PLease share, I'd love to know!
HOW I started blogging- My Cousin Johnny & His wife, Kaylee are newly-weds. They too, have a website of their own, and they send me an update on it every few months. Updating us on what's new, and they share recent pictures of their lives. Being I'm a picture-

holic, I loved their Idea

! I loved how I could keep up with their lives even though they are hundreds of miles away. They live in Massachusetts!
ANYWAY, I made a photo album of Mine and Aaron's pictures,
check it

ou

t.
I didn't get fancy like them, all because when I was trying to figure out how they did get fancy, I found something new.... Create a Blog! So, I did!
WHY I started - So, I'm a scrapbook queen, or used to be. I love to create anything I can using my imagination. Only, I NEVER have the time to sit like I used to. I host parties more and more, which means less

scrap booking

. So, Blogging... doesn't take me long. I feel as if it's my online scrapbook. That's what Aaron calls it. It's a way to keep up with Our Life and all our memories and thoughts! I love it.
HOW I got addicted - I met some wonderful women, who I follow regularly,
Keely,Michelle,Karen...

and there is a whole lot more! I can make a MAD list.
I found that blogging keeps me sane and makes me feel I still have that part of me outside of the housewife box [minus the wife part]. But, blogging keeps that missing piece of the puzzle that once was held by

scrap booking

together.
Thanks

to ALL the

wo

men out there who blog on a daily basis. I may not be a stay on home mom [ONE-DAY] or married to Mr. Wonderful [YET], but I am having fun while my life

learns

,

lives

, and

moves forward

preparing for the days when I have my children screaming & when I call him my hubby instead of boyfriend! My time is precious... & so is blogging!
This is my FAVORITE picture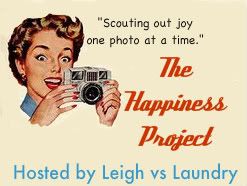 Glad to be back! Have a HAPPY Tuesday!

My Happiness Project



ALL the adults participated in the Egg Toss - The first game we played!!!!
The Childrens WATERMELON eating contest!!!